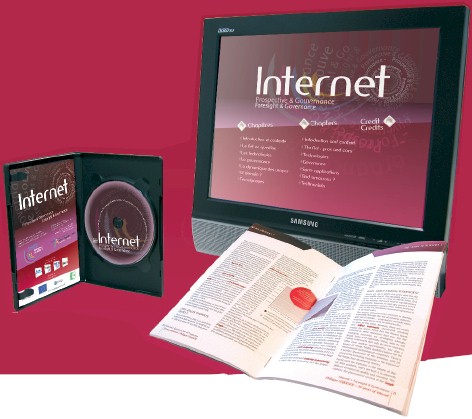 Un DVD de 120 minutes et un livret de 40 pages pour comprendre les enjeux mondiaux de l'avenir et de la gouvernance d'Internet, dans le contexte du Sommet Mondial sur la Société de l'Information (SMSI).

Filmé lors du Colloque international "Prospective de l'Internet", organisé par l'Institut Destrée en mars 2005 à Namur (Wallonie), avec des intervenants prestigieux tels que Louis Pouzin et Vinton Cerf, co-inventeur de l'Internet.

A 120-minute DVD and a 40-page booklet to understand the global stakes of the future and governance of Internet, in the context of the World Summit on the Information Society (WSIS).

Filmed during the International Conference "Foresight of the Internet" organized by the Destree Institute in March 2005 in Namur (Wallonia), with prestigious speakers such as Louis Pouzin and Vinton Cerf, co-inventor of the Internet.